Meet the Interchangers: Alexandra Morgan
As our Administration & Project Coordinator, Alexandra is in the thick of everything we do at Interchange. Not only is she instrumental in bringing our creative programs to life through her enviable skills in event management, she always makes sure everyone has what they need to find the magic.
Of course, with a plate as full as hers, she's always on the move – and always doing it in style. Recently she decked out her car 'Kermit' with some LED lights that make him glow green at night. Thankfully, even though she's fast, she's definitely not furious. We love working with her…so check out her intro video, then read on to see what makes Alex a bona-fide wonder woman!
---
What is your background?
I was an event manager for 4 years in the audio visual/staging industry, working with clients to bring their events to life, and managing the end-to-end logistical and staffing requirements around those events. Prior to that, I held many administration roles within the financial, education and government sectors.
What are the values that drive you?
I connect really strongly to one of our Interchange values, the value of "own it!" This speaks to accountability: when someone puts their trust in me, I want them to see it rewarded and work really hard to make sure that happens! I also believe in the power of positivity and always looking to see that glass as half-full, not half-empty. I always try to find the positive in every situation and tackle obstacles with enthusiasm and full commitment. I like to think I'm a confident person. I might not know what the future is going to bring, but I know somehow, deep down, that no matter what happens, I will go through it – taking risks, braving new challenges, and being certain in my decisions.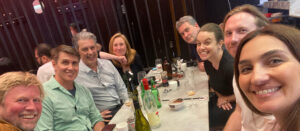 Alex with some of the team celebrating a successful workshop.
What do you think makes Interchange so unique?
Despite colleagues being spread between Sydney and Melbourne, there is a constant feeling of connection. Everyone is able to collaborate effectively and are excited about everyone's input. When someone's have a rough day, or struggling on a particular project, no one hesitates to reach out and help or check in.
What are you working on right now?
I'm managing one of our largest clients' leadership development roadshow right now. It started in Sydney, then went to Perth and it's now in Queensland. It's been a challenge managing it from afar, but I have so much faith in my team on the ground. In addition, I'm looking at how to embed additional social, environmental and community policy within the Interchange business as part of our B Impact plan, as well as create and deliver training to colleagues around learning Smartsheet (a SaaS program for collaboration and work management).

Alex celebrates with Emma after installing a port-a-loo video booth.
Yep, you read right.
What are you most passionate about?
I'm a big advocate for women's rights, social injustice and mental health, fundraising for at least one of those causes every year. This year I fundraised for Beyond Blue, but I regularly do the 'Walk In Her Shoes' step challenge for CARE. Australia. CARE Australia is a leading international aid organisation that works around the globe to save lives and defeat poverty. They put women and girls at the heart of their work. Their access to equal opportunities represents a powerful and effective opportunity to end extreme poverty. The statistic I really connect with is that when one woman escapes poverty, she will bring four others with her.
Do you have any hidden talents? How did you discover you had them?
Probably Latin dancing. I wasn't really into dancing as a kid, but as an adult I've really enjoyed it. I discovered my love for it after I moved to Sydney 10 years ago and wanted to meet new people. So I signed up for a beginners class and never looked back.
What's the most memorable encounter you've ever had with a stranger?
When I was travelling solo in Venice, I grew sick of eating out by myself and ran into a girl at a museum who was also travelling alone and felt the same way. We decided to go out and eat together and it was a really fun night! And then…it was done. Never saw her again.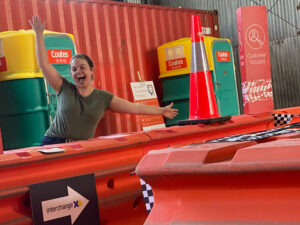 Another happy snap of a job well done…this time, our racetrack!
What piece of entertainment would you erase from your memory so that you could experience it again for the first time?
Seeing Client Liaison in concert at Gathering in the Vines at Hunter Valley. I'd never heard of them before that day, and I don't remember actually being that excited to go to this festival with a line up I didn't know. But as soon as they came on stage and started playing I was hooked! I loved their vibe, and their songs were funky and fun to dance to. After the festival, I immediately went out and bought their album "Diplomatic Immunity" and played it over and over for months. It's always my #1 go-to album to get me in the mood for any event. I've now seen them twice more in concert, so you can confidently say I'm a fan now.
What is your proudest accomplishment and why?
Facing my fears and doing the hard things 'cause I know they'll be good for me. I travelled overseas by myself, I moved to a new city alone, I competed in dance competitions; I think knowing that I was afraid, but doing things anyway, and for them to turn out to be magical moments and accomplishments…that makes me proud.
If you could swap places with anyone in the world, who would it be and why?
No one – If I swapped with some else, I wouldn't be me. And I quite like being me, even on my worst days!