Meet the Interchangers: Emma Grace

As Interchange's Office Manager, Emma Grace ensures the smooth operation of all things that occur within our Fitzroy headquarters. If you've ever visited our delightful urban home, you may have noticed our lush potted jungle and captivating works of art – all of it can be attributed to Emma.
Though, Emma's role doesn't stop there. She is also responsible for some of the less tangible aspects of Interchange life – the vibe. Since the pandemic began, Emma was officially appointed as the Head of Vibe. If anyone can let the good times roll, it's certainly this leopard print wearing, craft extraordinaire.
---
What is your favourite part of your job and why?
In addition to my role as Office Manager, I have also taken on the unofficial position of 'Head of Vibe'. As the Head of Vibe, it is my responsibility to plan team activities and perform tasks that keep the smiles beaming and fun flowing. During the height of the various Melbourne Lockdowns, this was a particularly important job. At that time, I was nicknamed 'Emma Elf' as I was sneaking around and organising all the virtual activities and care packages. I was even able to host a couple of virtual craft workshops where we made Kokodama's and earrings out of beer cans.
What do you like most about working at Interchange?
This is likely to be the same as everyone's answer to this question, but I love the people the most! We have such a fantastic group of humans who are funny, smart and an absolute joy to be around.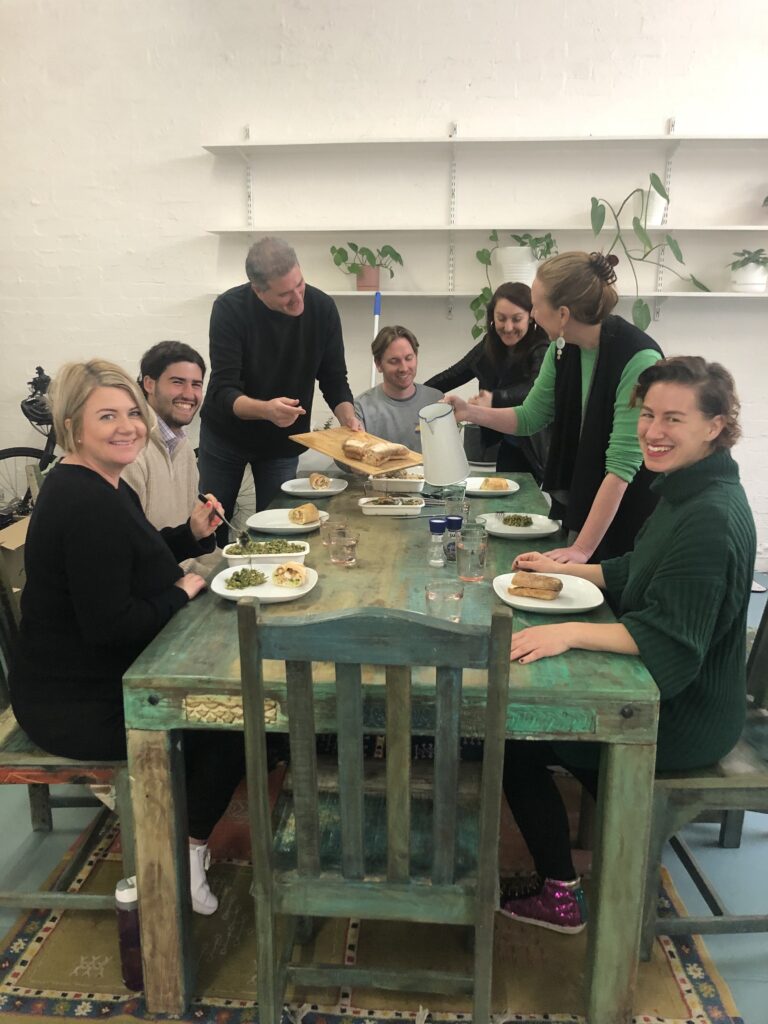 Emma and the rest of the Interchange crew having lunch.
What are the values that drive you?
I approach almost everything I do through a creative lens, whether that be work, fashion or hobbies. Creativity is such a big driver for me, which is lucky because one of Interchange's values is also creativity! It's a way to always keep things interesting and to keep myself and others engaged.
What do you enjoy doing when you are not working?
Well, I work part-time at Interchange so the rest of my time is spent running my own business teaching craft workshops and selling sustainable jewellery. Even though technically that is still a job, I would be doing it as a hobby anyway because it's so enjoyable. I use recycled materials for all the crafts I make and teach so I also get to flex my op-shopping skills when buying my supplies.
What are you most passionate about?
I'm most passionate about environmental sustainability. I'm conscious of the way I live and always aim to have a positive impact on the environment. In terms of my craft business, that means I actively divert waste from going to landfill and turn what would have been rubbish into beautiful new jewellery, home décor and more. I also make an effort to source my fashion sustainably as well. All of my clothes come from either op shops or vintage stores. Many people turn their nose up when they hear the word op shop, but I have to say, I'm always being asked where I bought my outfit from, so you can definitely find some treasures amongst the racks.
In terms of my Office Manager role at Interchange, it means that I am always making sure that the products I order for the office are as sustainable as possible. I've even bought some of our kitchen appliances from op-shops! You're welcome for the sandwich press, team. I ensure that the office is recycling correctly, fixing instructional signs above each bin. I've also set up a separate soft plastic bin, which I empty and take down to the local supermarket to be recycled. I've also just recently changed our cleaning company to the Asylum Seeker Resource Centre cleaners, which helps provide Australian work experience and financial independence to those seeking asylum in Australia. I urge everyone to check them out and consider switching over. Small changes like this can make a big impact when they're adopted by many people.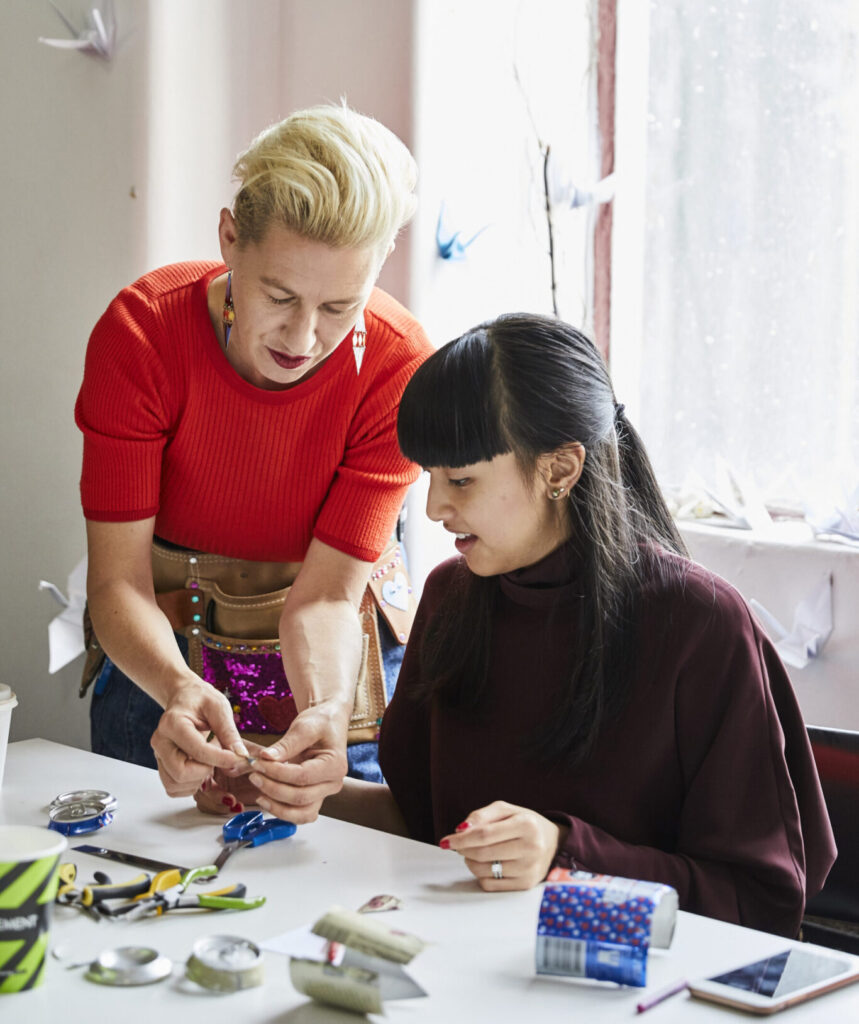 Emma teaching a workshop on how to make her famous BEER-ings (earings made from beer cans).
What piece of entertainment would you erase from your memory so that you could experience it again for the first time?
I went to an immersive theatre performance by the Boon Companions a few years ago that absolutely blew my mind! To try to explain it would not do it justice, but the ingredients included adrenalin, visual saturation and pure joy. It was like nothing I had ever experienced before or since.
The most memorable encounter you have had with a stranger?
When I was young and heading overseas by myself for the first time, I met a gorgeous couple in the passport line at the airport. I was terrified and they helped calm my nerves, assuring me everything was going to be great and that they would meet me at customs at the other end and help me work out my transport into the city. When I returned to Melbourne a year later, I bumped into one of them working on the same floor as me in an office building in the city. What are the chances of that?!
When you want to relax, what is your go-to?
I love a good session of board games with friends. My current favourites include Puerto Rico, Picture Whisperers, Sushi Go and Pictionary. In the warmer months, I like going on bush walks and on trips out to rural areas of Victoria, like Violet Town and Euroa. When I'm at home though, I'm almost always crafting something or gardening.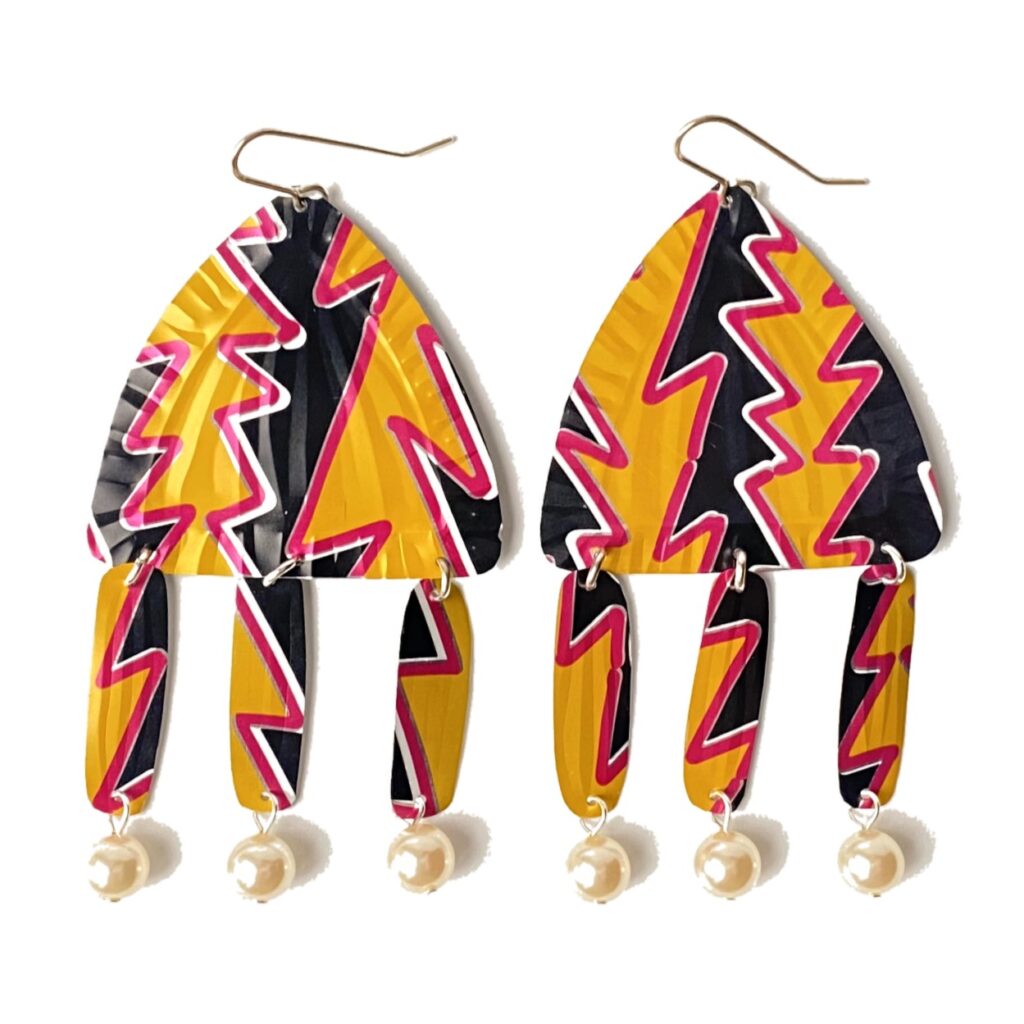 A pair of Emma's BEER-ings.