Meet the Interchangers: Jack Finsterer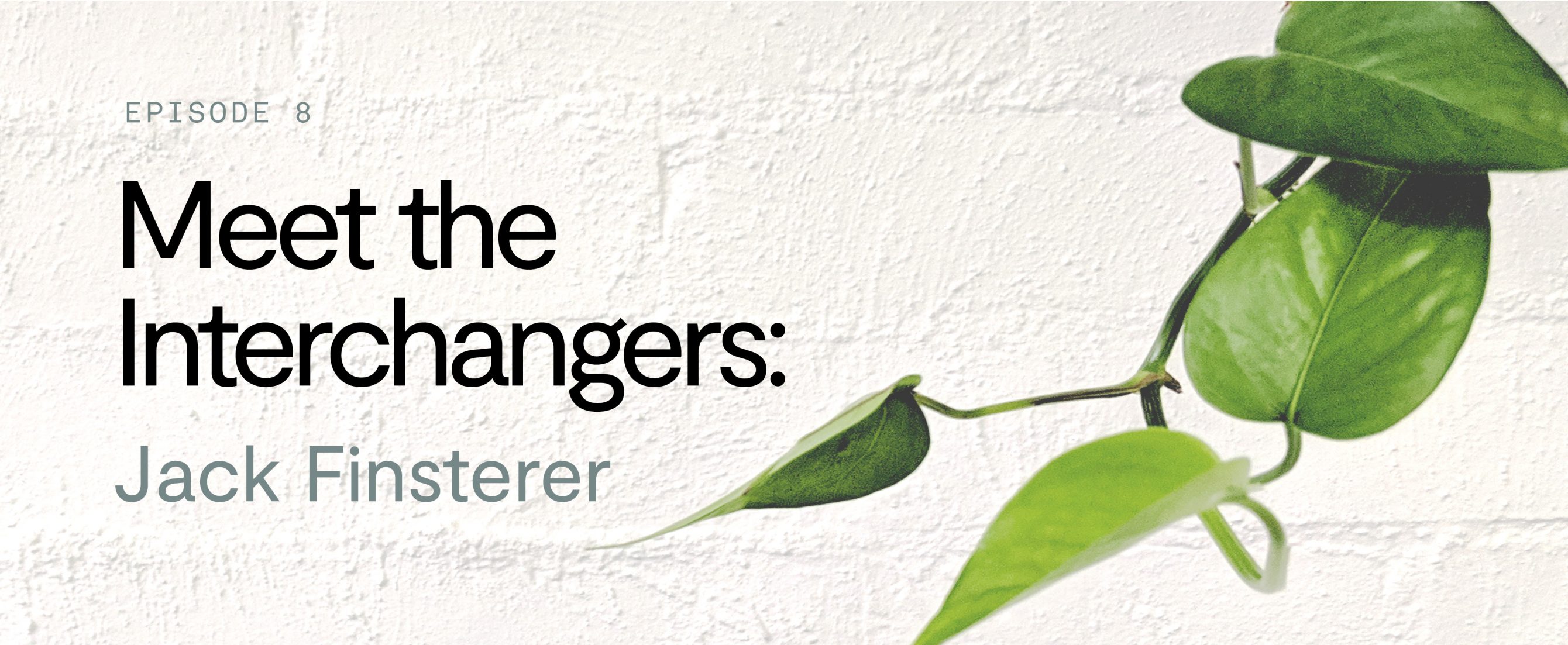 Actor, Facilitator and Creative Director, Jack Finsterer is Interchange's Jack of all trades – however, he is the master of it all.
You may have seen him gracing your screens on TV shows such as Blue Heelers, Macleod's Daughters, Neighbours or even Home and Away, but what you may not know is that Jack is also an integral part of our culture transformation projects. Stemming from his experience as a successful actor and facilitator, Jack knows exactly how to breathe life and creativity into a project.
We were able to nab a bit of his time and ask him some questions about his professional journey, what he likes most about his role and what has helped shape him into who he is today.
---
Tell us about your professional background.
After school, I attended the Victorian College of the Arts to study acting. I have had some wonderful experiences in both the theatre and on screen. I have played the lead role and support roles in countless productions and I still continue to do that when time allows. At the moment I am actually playing a role in Home and Away.
Over the last 15 years, I have stepped between the two worlds of the arts and consultancy. Now that I'm in a permanent role at Interchange, I not only work as an actor and facilitator, but I am also a Principal Consultant, which means I am able to bring the content to life in a creative and engaging way. I love connecting the intellectual with the emotional, lived experience. It's very rewarding work.
What lead you to work at Interchange?
Well, Gabe asked me to. No, seriously. Many years ago, before she founded the company, Gabe and I worked together on another big project. We got along like a house on fire and we seemed to work together really well. So, when Gabe founded Interchange, she asked me to come on board as one of her primary facilitators and actors.
I have played a role in almost every single one of Interchange's major projects since then and I couldn't imagine it any other way.
I can recall my first day in absolute vivid detail. I was stuck in traffic on Victoria Rd in Sydney and I was making my way to the Chullora Railway Yards to facilitate a two-day leadership program for leaders from different functions and from different levels in a very unique location. I was feeling a little edgy. I was most nervous about setting up the environment, which was a converted shipping container and much of the cohort hadn't been engaged in this way before. But once I got stuck into it, it was an incredible experience and everything felt very natural from that point on.
On tour in India for the Bombardier project with Eve Brennan and Raj Sidhu
What part of your role do you love the most?
I really love that I get into the nitty-gritty and actually see the impact that our work has on people's lives. It is one thing to read the feedback or the engagement surveys, but quite another thing to get stuck in, on the ground.
I once had the opportunity to run workshops in the Pilbara at some mine sites. The men and women out there were deeply appreciative of the time, effort, care and style of the programs. One thing is for sure, I didn't need to read a single feedback form to work out if the participants found it effective. It was a very rewarding experience.
I absolutely loved being out in that location too! Don't get me wrong, I quite like an airconditioned office in the city, but my role at Interchange sees me facilitate in some rather extreme locations that many people don't get to experience. That's why I formed my 'Jack Grylls' character and started filming some funny videos for the team back in the city.
Ah, yes, the famous Jack Grylls! Can you please tell us a little about him and the adventures he has had?
MEET JACK GRYLLS…A little bit of internal silliness… I invented this character on a whim because I always seemed to be running programs in quite full-on situations. I wanted the team at Interchange to see what I was getting up to while having a bit of a laugh at the same time, so I would film some short videos and call them 'Jack Grylls: Extreme Facilitation'.
In this one particular instance, I had just finished a massive week facilitating and had been away from home for a few weeks by this point. It was the end of the year, so things were winding down before Christmas. I rang Gabe to let her know how things had gone and low and behold the rest of the Interchange team were out on a team bonding session, playing barefoot bowls! So, I sent them this video in an attempt to make them feel guilty, but I don't think it worked.
Why do you think Interchange is so unique?
Heart and empathy.
Interchange prides itself on doing an exhaustive discovery phase for almost every project. We speak to people from as many different parts of the client's business as possible, gathering perspectives, ideas and people's lived experiences. All of this insight goes on to inform the direction of the project, meaning that the solution ends up being a much more holistic one, keeping their people at the centre.
All programs that we design and deliver are infused with the heart of the organisation and are completely empathetic to its people. So, I think that Interchange is unique in the way that we provide solutions to complex problems without resorting to simply ticking boxes – we really care.
What are some events or people in your life that have helped shape who you are?
When I was a boy, my grandfather Bill O'Neill came to live with us. I would come home from school each day and he would tell me stories of his time on the railways and working as the head of the Australian Railways Union in the 1930's, 40's and 50's. As you can imagine, they had pretty tough conditions and being anti-communist but pro-union was at times a difficult political line to walk, not to mention physically dangerous. He bled for his beliefs.
He did many great things and taught me many lessons. The most profound of which was, "If you can spend your working life serving and improving the lives of others, it is a life well spent." That phrase has stayed with me throughout my entire life and has guided many of my decisions, especially my career.
My father, on the other hand, was a migrant who was a builder and a truck driver. He was highly skilled and was an incredibly hard worker, but unlike my grandfather, he loathed unions and anything to do with them. So from a young age (with the help of my mother), I was able to learn to look at every side of an argument. Not bad training for my line of work if you ask me.
What is your most irrational fear?
My most irrational fear would probably be…the unknown. But maybe that isn't so irrational after all?
After a big Train the Trainer  – Savli, India