Meet the Interchangers: Felix Johnson

As our Creative Consultant, Felix gets to come up with the fun and interesting ways Interchange delivers its unique programs. If you've seen our custom-built environments, featuring left-field ideas like video-booth Port-A-Loos and remote-control car racetracks, or seen some of our latest films, then chances are you've seen Felix at work.
When he's not trying to find the magic, he's riding the rollercoaster with his team. On any given day he is conducting interviews with clients, punching out scripts, reports and presentations, or generally jumping into anything anyone needs. He's like Interchange's very own Swiss Army knife, complete with a few weird tools that, maybe, just might work…
---
What lead you to working at Interchange?
It was pretty serendipitous. As well as pursuing an acting career for about 8 years, I had also been coaching competitive swimming for a very long time. Over the COVID winter of 2020, one of my classes whittled down to just one swimmer who happened to be the son of Jack Finsterer (fellow Interchanger). Jack and I got talking and found out that as well as a lot of mutual connections in the acting industry, we also shared a common interest in leadership and psychology.
I was studying an MBA that was very people-oriented at the time and was keen to explore avenues that might harness some of my existing skills. Jack suggested meeting with Chris (Creative Director at Interchange) – and I'm very glad I did!
I see Interchange as this real blending of worlds for me: the emotional intelligence and creativity of acting, the high performance of sports coaching, the business knowledge of my MBA all aligned to help successful businesses develop their workplace culture to an outstanding level.

Felix with Jack after a quick kayak on the Harbour
What do you think makes Interchange so unique?
It's definitely the creative approach we take to our programs, and I feel proud to be able to contribute to that.
When I describe my work to other people, their eyes sometimes glaze over at the mention of a management consultancy, but it's very satisfying to watch everyone's ears perk up at the mention of our creative delivery methods: film, virtual reality, custom-built environments.
At the end of the day, it's one thing for people to understand a program, but so much more meaningful if they experience it. Engaging, exciting and surprising people, then grabbing that experience and building links back to tangible actions they can take at work… that's the magic of working with Interchange.
What does the flexible working environment mean to you?
It's essential, to be honest. Not only are we dealing with the ebbs and flows of COVID lockdowns, but with our team spread across NSW, VIC and soon other states too, being able to go into the office, work from home, travel and work from one of our other offices interstate… not only is it convenient but also critical to maintaining a sense of team.
I think it's important to have balance while we're geographically separated, and Interchange achieves that really well by running team days and weekly check-ins to ensure everyone has a handle of what others are doing and how they're going. Without this flexibility, it would be a lot harder to build positive team experiences for our clients.
What are you working on right now?
When it rains, it pours!
As well as currently taking on a facilitation role in a large culture transformation program for a major construction industry company, I'm leading a project to help a significant arts venue operate more collaboratively across their commercial, artistic and community event teams. Add in some creative development for future projects, internal marketing work and some data-crunching and report writing… it's a mixed bag to say the least. Wouldn't have it any other way though!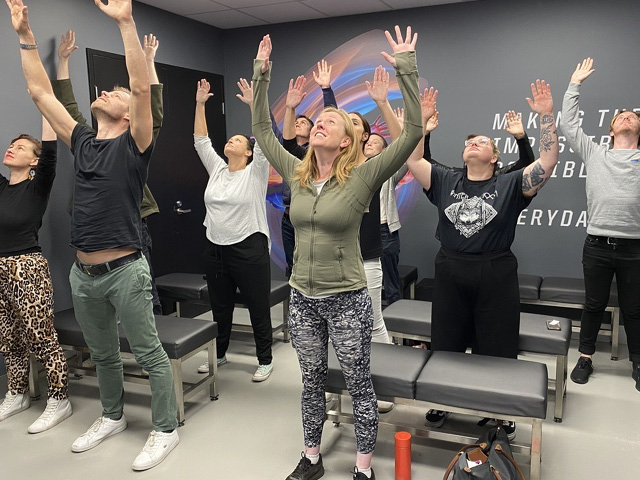 Not a rain-dance: the team prep to do indoor skydiving
What's the most memorable encounter you've had with a stranger?
Once, at a dinner under the stars near Uluru, I sat next to a convicted, later acquitted, murderer celebrating the anniversary of his release from prison. We got told the whole grisly story: key pieces of evidence, bizarre family power-plays, and his distrust of actors (umm…) because Channel 9 had rushed a dramatisation of his case to air which didn't paint him in a positive light. All that in the dark, quiet desert. I mean he seemed nice, but I have my doubts…
Do you have any hidden talents? How did you discover you had them?
I remember lots of random facts, best highlighted at a pub trivia night. Geography, languages (you're looking at the former four-time German State Poetry Champion, after all)… I have also used up valuable brain space knowing most of the Periodic Table – it's thanks to 'The Elements Song'; if you know, you know. It's amazing what sticks – and annoying what doesn't!
What do you hope never changes?
My kitten Percy's fascination with water. Paws in the water bowl, loves to watch the toilet flush, occasionally jumps in the shower while you're in there. He's hilarious.
What is your favourite family tradition?
Christmas on Christmas Eve. It stems from the German tradition of Heiliger Abend which is the biggest day of festivities in the Christmas calendar. As kids, we used to do half our Christmas in the evening, then half in the morning but these days champagne in the evening tends to use up all the excitement and we're happier to have a slow start on December 25. Homemade German cakes, real candles on a real Christmas tree (only one minor fire in 30 years), and the occasional carol… love it.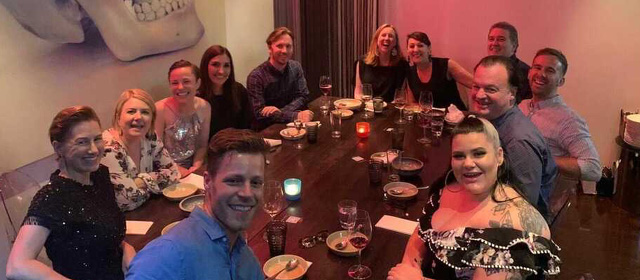 Felix and the Interchange team, Christmas 2020
What are you absolutely determined to do?
Get to Eastern Europe to explore modern ruins and abandoned sites.
In 2019 I had a taste of it in Croatia: a friend and I hit the outskirts of Dubrovnik and explored a ruined hotel that in recent history had its amphitheatre used by Game of Thrones for that eye-popping scene. Then outside Berlin I roamed around a former US spy station on a hill, now overgrown with forest and covered in cool graffiti. There's loads more further east, so that is definitely on the bucket list.
What irrational fear do you have?
I don't like walking on wet ground when I have dry feet. I think it's a hangover from swimming lessons as a kid and the gross non-slip mats they put out which just scream fungal infection. On the other hand, walking on dry ground when I have wet feet is incredibly satisfying.