Meet the Interchangers: Nick Brandon-Jones

Senior Consultant Nick Brandon-Jones may be one of Interchange's new kids on the block, but in the world of consulting, he's no spring chicken.
Nick has an unbridled passion for improving the world of work. He feels most at home when he is helping people realise their goals and guiding them in the right direction. Lucky for us, he was able to spare a few moments to chat to us about his professional journey, his favourite family traditions and his frightening experience in the Amazon!
---
Tell us about your professional background.
Well, I haven't exactly had the most direct path leading me to the career I am in today. I was lucky enough to find an office administration role in a small law firm straight out of school which is what started my professional journey. As I gained more experience in an office environment, my responsibilities changed and grew. From receptionist to assistant and clerk to bookkeeping; I had tried every role besides lawyer by the end of my time there.
After completing my masters of organisational psychology, I started working for a consulting firm delivering people solutions and services across various industries. During my time there, I was seconded into a major bank as an assessment expert, travelling across Australia and overseas to play a part in delivering an organisational transformation. My passion for helping organisations improve their culture and further develop their leaders is what then lead me to Interchange and I've been blown away with the projects we've been delivering already!
What is your favourite part of your job and why?
Consulting is made up of three main parts: listening, asking the right questions, and then listening again. Not one part of the process is about the consultant, it's about the people within an organisation that want to make a change or are trying to achieve something they've never done before. To me, helping, empowering and driving them to achieve their goals is the most satisfying part of my job.
The great thing is that it can be done through so many different avenues including brainstorming, coaching, design, innovation, programs and the rest!
Every organisation is so unique, so it's all about finding the best ways to reach each and every person within that organisation.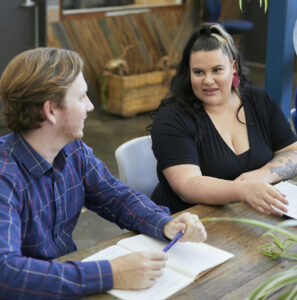 Nick and coworker Courtney having a chat
What lead you to work at Interchange?
Throughout my psychological studies and experience within this space, I've found that it's so important to approach problems with an open mind and a willingness to stretch your thinking. Interchange really embodies that for me, no two solutions are ever the same and they're very much guided by the individual needs of the client.
I'm of the belief if you're going to do something, do it the best you can and make it fun – that's what it's all about. At Interchange we're constantly pushing each other, and we have the right mix of expertise and experience to deliver some incredible, creative results while having some fun along the way.
What does the flexible environment mean to you?
If there's one positive that's come out of COVID, it's realising that people can be productive at home! Gone (mostly) is the stigma of people not 'working' when setting up a day at home, I think most have found it advantageous depending on the work they need to complete. Although, some collaboration and group interactions can't achieve the same quality that face-to-face can. We're still learning what the right mix is, but it all comes down to trusting people to select what the right environment is for their priorities (with clarity from the business) combined with an acknowledgement that some face to face collaboration can't be substituted with digital.
I appreciate the flexible working environment that Interchange offers because even just recently, I was able to go to Perth to visit relatives and continue working remotely during the isolation period. I was able to take my annual leave, but save it for the fun holiday time, not waste it on the isolation experience.
What do you enjoy doing when you are not working?
Sport has always been a big passion of mine. In the summer I'll be going to the Boxing Day test for the cricket and during the winter I'll be watching the Dees at the G'. Still not holding my breath for our next premiership but surely it will be our year eventually!
I've been very lucky to do some travelling across Australia and overseas, so I can't wait until we are able to do that again. Also, cooking curries is also a big favourite of mine! There's nothing better than a good curry.
What is one thing that you would never do again? Why not?
Swimming with dolphins in the Amazon. While the dolphins are lovely, we passed a number of caiman crocodiles which were only 100 metres away… too close for comfort in my opinion. Our guide guaranteed that we would be safe and we did live to tell the tale, but I'm not so keen to take that chance ever again. The next day we also went piranha fishing and anaconda searching… It was quite the nerve-wracking trip to say the least.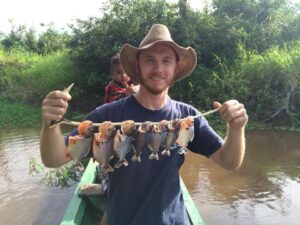 What a successful day… fishing for piranha's.
What TV shows have you most enjoyed binging?
The Simpsons has always been a big binging series for me, even before streaming existed. I could easily watch it for a couple of hours straight. During the Netflix era though, it would have to Game of Thrones, Vikings, Breaking Bad and I currently enjoying re-watching Alias.
What do you hope never changes?
People's willingness to meet in person. There's definitely been some changes from COVID and some incredible advantages of virtual catch ups but nothing, for me, will ever beat meeting in real life. Both personally and professionally, the amount of energy and enjoyment I get from meeting someone for the first time and then continuing that friendship is something that won't ever change for me.
What are some events/people that have helped shape who you are?
My grandparents. I was very lucky to have grandparents that would look after me a few nights a week after school, take me to their caravan park in Porepunkah most holidays and attend all my sporting games (even until a few years ago). My nana is one of the nicest and giving people you'll ever meet and my pa taught me a few very important life lessons that I still carry with me today.
What is your favourite family tradition?
Outside of my mum's lasagne that makes a requested appearance every Christmas, it would be going away with brothers and sister on holidays. It doesn't matter where we go, whether it's visiting each other in Melbourne, Gold Coast or somewhere overseas – those are the best times! Table tennis always happens to be involved in our family trips too, which can get fairly competitive as well.