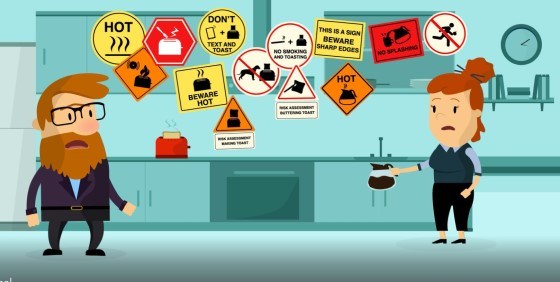 Westpac is one of the country's four major banking organisations, and Australia's first bank and oldest company. Seeking to redesign its Health, Safety and Wellbeing (HSW) management system, Westpac approached Interchange to implement human-centred design techniques to put people at the centre. To ensure the new initiatives were user-friendly, Westpac's workforce was to be engaged in the design of the new HSW system. The first stage of this project involved conducting a pilot program in South Australia, with a focus on operations in and around Adelaide.
Discover
To commence the Discover phase, we brought together a diverse group of employees for a pilot study, drawn from 10% of Westpac's South Australian workforce. We sought to learn directly from our target demographic about the processes and behaviours that were supporting or impeding effective HSW management. We implemented a creative approach to problem solving, including a virtual reality (VR) film, to uncover the current state of HSW at Westpac.
Design
We undertook a series of one-on-one interviews to get to know Westpac's employees better. These interviews explored what a typical day looked like for employees at and away from work. We also explored experiences with current HSW trends and the ideas employees had for making these initiatives 'more human'. Through a series of workplace observations at Westpac's offices, we were able to examine a different way of working across different segments of the workforce. These informed our insights about Westpac's HSW system, including the link it had to the organisation's wider culture.
Deliver
We delivered a report identifying 17 areas across the HSW system which employees and leaders interact with regularly at Westpac. For each area, we were able to pinpoint what people responded to positively about the process, procedure or program in question. We also determined what could be better and what could be done to make that part of the system 'more human'. Using these 17 areas of the HSW system, we compiled suggestions for improvement from staff and their leaders. We also made some of our own recommendations based on our expertise in safety and wellbeing. We prioritised all these suggestions and recommendations for Westpac based on the level of impact a change might result in, as well as the level of effort required to implement the change. In addition, based on our interactions with employees in Adelaide, we were able to identify 12 different 'personas' that were common to the people of Westpac. Finally, we developed a brief, 90-second animated video for the organisation, which captured its HSW journey and vision for the future.
Outcomes
Our work with Westpac has resulted in a much clearer vision for their HSW system and a far more human-centric approach. Westpac has taken our findings and is building them into their national roll-out of an improved system. By identifying the 12 personas, we have made it easier for the HSW team to keep their internal customer in mind when designing and delivering programs and support in the future. Our animation is also being used by HSW leaders to engage with both internal and external stakeholders about the human-centred design journey the organisation is on, helping Westpac to position itself as a business that is people-focused.